IMPEL Next Generation Conference
25-28 September, Zwolle, the Netherlands
Practical Information
Conference location on the 26th of September
Town Hall of Zwolle
Grote Kerkplein 15, 8011 PK Zwolle
Link to map
Location for the side meetings on the 27th and 28th of September
Province House Overijssel
Luttenbergstraat 2, 8012 EE Zwolle
Link to map
For further information and details on the side event click here.
The plenary conference will take place on Wednesday 26th of September. Access here the programme for conference.
Expert team and project meetings are scheduled Thursday 27 and Friday 28 September in different places around the beatiful city of Zwolle (tbd).
Click here to view the overall schedule.
To welcome you to charming Zwolle, a city tour by bike (departing at 16h45) or by foot (departing at 17h00) is organised on Tuesday 25 September. The meeting point will be at the Grote Kerkplein in front of the City Hall. Dresscode: informal / sportive.
This is followed by an informal welcomes drink starting at 18hours at the Wine House Cafe 'Het Wijnhuis, located at the Grote Kerkplein 7, Zwolle.
After the closing session of the conference a reception will be hosted at the Town Hall of Zwolle between 18h00 and 19h30.
The conference dinner will be offered on the 26th September starting at 19h30, and will take place in the Big Church ('Grote Kerk), Grote Markt 18, Zwolle. Dress code: business casual.
Each participant will receive a personal badge which can be picked up at the registration desk. Registration will be open at the Venue on the 25th of September between 15 .00 and 17.00 and on the 26th September from 08.00. There will be security check, please make sure you arrive with enough time to pass the controls and bring your passport or ID card with you.
Arriving to Zwolle by train/ airplane
The city is situated towards the North of the Netherlands and can be reached by a direct fast train connection from Schiphol Airport in approximately. 1h10min, every 30 minutes. Website to the train service provider NS for information about schedules and prices: https://www.ns.nl/en
Depending on the hotel you are staying at, you can either walk, rent a bike or use the public bus transportation. In addition, the host has kindly arranged for a private bus service.
Schedule public transport (see also https://9292.nl/en):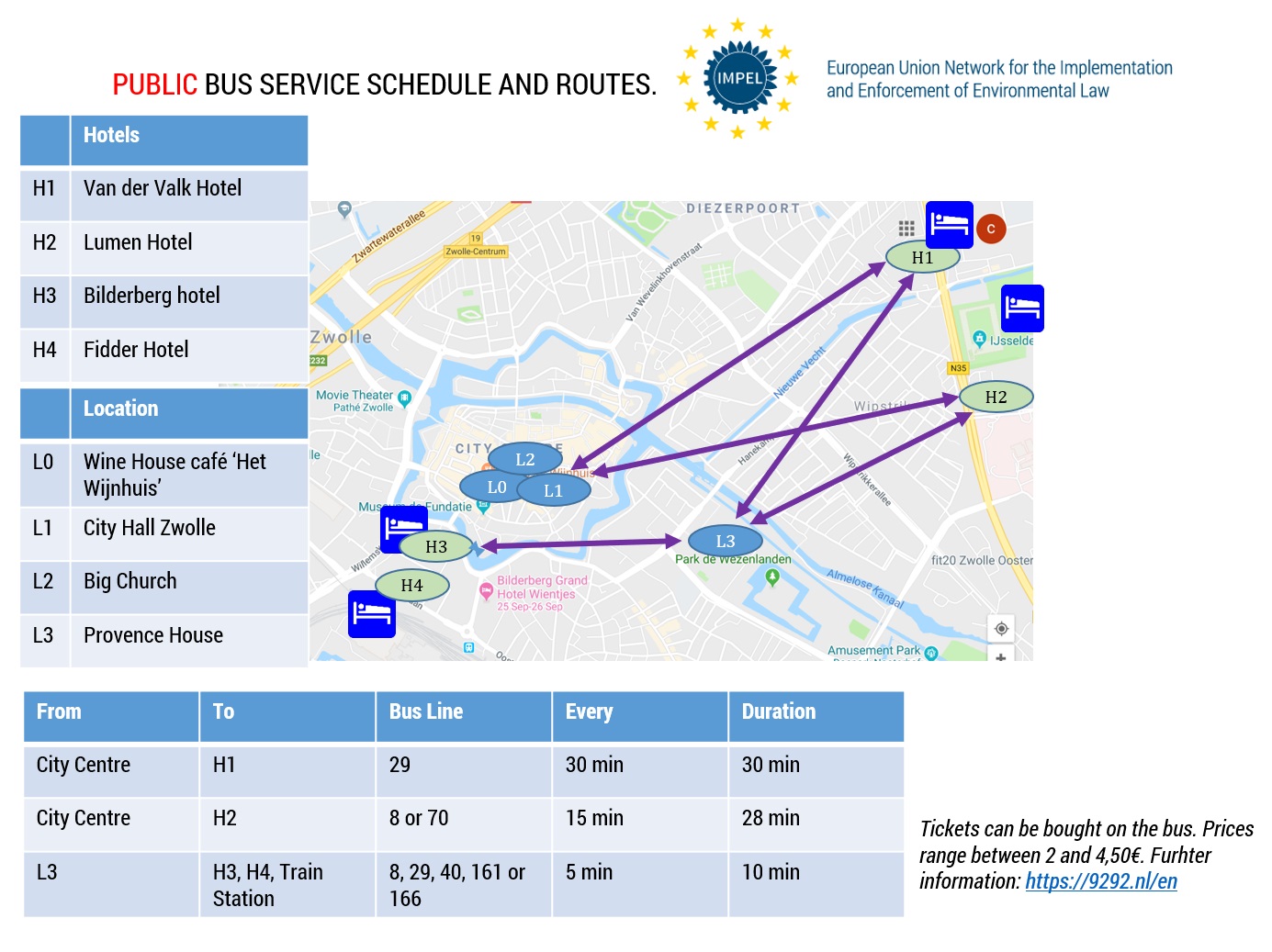 Schedule private transport: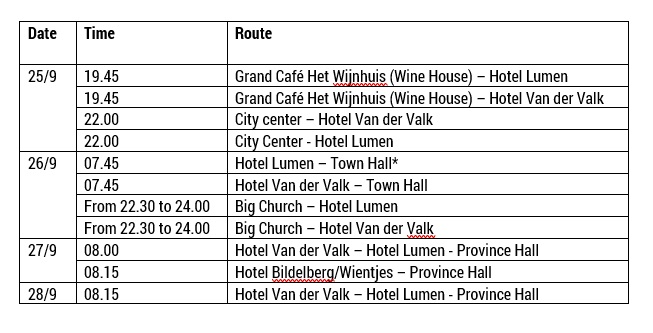 Possiblity to rent a bike
Zwolle is a wonderful city to move by bike from one location to another. In the 3 hotels Lumen, Bildelberg and Van der Valk, bikes available for rent. Prices vary from 10€ to 27€ per day (normal and e-bikes). This is a service on demand, so please contact the hotel beforehand.
► Van der Valk hotel: c.moinat@zwolle.valk.nl or groepen@zwolle.valk.nl
► Lumen hotel: mhuisintveld@lumenzwolle.nl
► Bilderberg hotel: gvdiepen@bilderberg.nl
There are 3 hotels considered for this Conference.
Option 1: Van der Valk Zwolle
Adres: Nieuwleusenerdijk 1, 8028 PH Zwolle
Website: https://www.hotelzwolle.nl/
Phone: + 31 38 8000 800
Email: zwolle@valk.nl
The hotel is 30 minutes from the venue by PUBLIC TRANSPORT-bus 29 or 40, bus every 30 min. Or 12 min by taxi.
Link to map
Option 2 & 3: Hotel Lumen and Bilderberg Grand Hotel Wientjes
LUMEN HOTEL
Price: € 119,- single use including breakfast
Adres: Stadionplein 20, 8025 CP Zwolle
Website: https://www.lumenzwolle.nl/
It is 23 minutes from the Conference venue by bus (Bus nº3 -every 30 min) or 45 min on foot. https://www.keolis.nl/
Link to map
BILDERBERG GRAND HOTEL ZWOLLE
Price: € 125,- single use including breakfast
Adres: Stationsweg 7, 8011 CZ Zwolle
Website:https://www.bilderberg.nl/zwolle/grand-hotel-wientjes/
It is only 9 minutes on foot from the venue.
Link to map